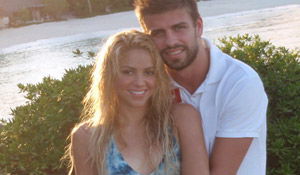 ANYONE with minimum media contact must already be unaware that the Barcelona footballer Gerard Pique and Shakira were an item, but the Colombian singer has now virtually confirmed it. A photograph of the couple was put by Shakira put on her Twitter page some days back with a link entitled "Here's my angel", providing conclusive evidence that her break-up with Fernando de la Rua is now behind her.
All memory of the son of a former Argentinean president has apparently been erased by the Barcelona defender who is also a member of Spain's victorious World Cup team. Unfortunately the course of true love never did run smooth and there has been one small cloud on the horizon.
The singer's hits, including Waka-Wak, which became the anthem of last year's World Cup, were allegedly banished from Real Madrid's Bernabeu stadium during pre-match warm-ups.
Officials hastily denied that Shakira had been vetoed because of her romance with Pique. It was the players themselves who decided what music would be played over the stadium's loudspeakers, one told the sports daily, El Mundo Deportivo.
Shakira is at present the world's best-known woman, according to a survey undertaken for Personality Media and although Pique is a household name in Spain, his relationship with the singer is giving him a higher international profile.
This, needless to say, does not necessarily endear the Barça player to his Madrid rivals and may well influence the players' choice of music at the ground.
Worse still, Shakira was finally heard prior to kickoff last Saturday when Real Madrid played at home to Sporting de Gijon – and lost 0-1.