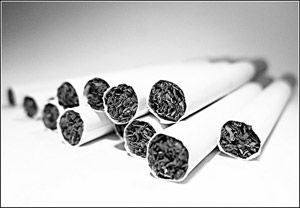 SALES of cigarettes fell by 30 per cent in the first three months of 2011 after Spain's amended anti-smoking laws came into force on January 2. This figure was quoted during the Tobacco Industry Fair, held last weekend in Cornella de Llobegrat (Barcelona) where those attending were looking for innovations and strategies to buy up the sector.
There was a growing market for additive-free free tobacco, said executives, who claimed that this was a strong indication that smokers were more interested in finding a healthier product than giving up smoking altogether.
It was necessary to switch from intensive tobacco growing to organic cultivation by eliminating harmful substances from plants while protecting the environment, declared the Raul del Pino, spokesman for the Fair's organisers.
The tobacco industry also predicted that sales of cigars and pipe tobacco would at least remain stable and were likely to increase in future.
Both were already appreciated as luxury, handmade products that most people associated with celebrations, Del Pino pointed out.
To comply with Spain's now-stringent anti-smoking laws, a marquee was installed outside the hall where the Fair was held, so that attendees could sample new products and also attend a short course demonstrating the correct way to smoke both cigars and pipes.
With 27 per cent of Spaniards over the age of 16 admitting that they were smokers, the tobacco industry generates €8 billion each year.
There are 16,000 'estancos' or shops licensed to sell tobacco, and Spain is the European Union's third-largest grower of tobacco, with a sector providing direct employment to 48,000 people.
Picture Credit: Dee Johnson