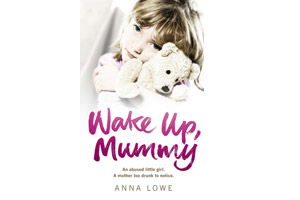 by Anna Lowe. 'Wake up, Mummy' is the heartbreaking true story of an abused little girl whose mother was too drunk to notice. 'I squeezed through the narrow gap and out into the hallway and I stood for a moment, unable to decide where to go. Should I make a dash for the kitchen, where my mother would be swigging from a bottle? Or should I run upstairs and try to find somewhere to hide? It was a choice I didn't really need to make, because there was no escape'
Anna Lowe grows up on the doorsteps of pubs, waiting for her mum to come out. Having to give up her bedroom to her mother's drunken friends. And regularly calling out the ambulance, after finding her mother unconscious and covered in vomit.
But it is when they move in with her mother's boyfriend Carl that things take the ugliest turn. Not only is he violent with her mother, but he also sexually abuses Anna from the age of six – destroying any semblance of normal childhood she had left.
Wake Up, Mummy is the true story of a girl who eventually found the courage to break free from the past. Anna's story is very well written, and will make readers truly feel the anguish and fear which she experienced as a child. Perhaps most amazing is the fact that despite such a hard life, she has been able to exit the path of self-destruction she was on and become a successful businesswoman and mother of three.
Book review by Gabrielle Devon