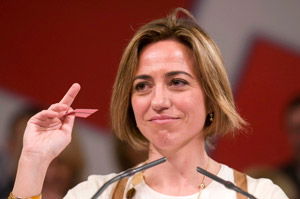 FOLLOWING new regulations, Spain's Ministry of Defence employees face disciplinary or even penal action for inappropriate use of the department's email network. She was prepared to control all information circulating on the ministry system, announced Defence Minister Carme Chacon, who wants neither internet leaks nor emails not dealing with strictly professional matters.
Chacon also reserved for herself the right to inspect all files and communications "using appropriate legal procedures."
The new instructions had "dumbfounded" ministry employees and users from the Armed Forces, said ministry sources, who described the new rules announced by the official State Bulletin (BOE), as a 'Law of Silence.'
This was also the first time the BOE was used to announce norms for internet use, which were usually dealt with by internal circulars.
But the contents of the announcement, with its threat of disciplinary action and application of the Penal Code, caused most surprise.
Abuse of email, such as using the inter-personnel messenger service for other ends than its intended function was now punishable, together with gravely damaging, directly or indirectly, "the image of the ministry of Defence, the technological infrastructure supporting it, or users of the service."
Users would also be held responsible for "activities" originating from, or received by, their email addresses, warned the BOE.
The new measures were described as excessive by ministry staff, who complained that Data Protection legislation could be infringed if employees' computers were accessed. Legal protection was required and officials should not be able to access employees' emails without express permission.
Picture Credit: Tomas Gomez