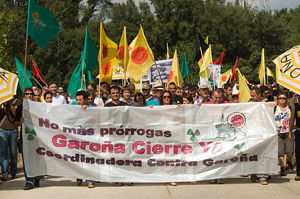 AROUND 400 people gathered last Sunday outside the Santa Maria de Garoña nuclear power station in Burgos (northern Spain), demanding its immediate closure. Garoña's useful life was over and its safety in question, claimed the demonstrators, who said the government should come to a decision without delay without waiting until 2013 when the nuclear plant's operating permit – which had already been extended – was due to expire.
After reading a communiqué from the Coordinadora contra Garoña, the protesters set aside banners proclaiming "Garoña, not one day more" and staged a nuclear accident, complete with masks, smoke canisters, a warning siren and "victims" lying on the ground.
Garoña is Spain's oldest nuclear power station and its opponents warn that great risks are involved, ranging from an earthquake like Japan's to the human error responsible for the Chernobyl disaster.
Less than a year go, Nuclenor, the company operating the Garoña plant, was full of praise for Japan, claimed the Coordinadora. "Today, Japan is in the eye of the hurricane and stands at the gates of disaster."
It was pointless to argue that Spain was unlikely to have an earthquake on the same scale as Japan's, said Alfonso Riboto, a Coordinadora spokesman.
"The sensible and reasonable thing is to close the plant," Riboto insisted at the weekend, who said it was essential to draw conclusions from Fukushima, whose production model, output and age were the same as Garoña's.
There were no plans for further protests in the immediate future, said the Coordinadora spokesman. Instead, members were waiting to assess the outcome of the Fukushima accident and to see what steps were taken by the central government.
Picture Credit: Nattydreaddd