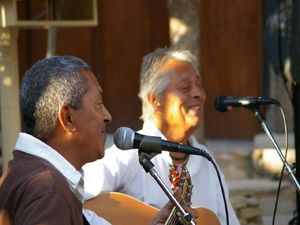 This winter seems to go on and on, a few weeks ago the logs for the fire ran out but did we care? Nope as the sun was shining and surely summer was finally on its way. No doubt gas bottles are still flying off the shelves to warm us up again.
Previously I advised people to ask me when my mother was next due to visit Spain if they needed a weather forecast as in nearly five years of visits it has tipped down every bloomin time she arrives and sure enough this latest visit was true to form. In future I may print her travel details to warn readers of the impending flood.
Once she even changed her flight last minute and the weather was glorious until the rearranged date arrived. Poor mum.
Mojacar though is made of sterner stuff and like magic chiringuitos opened up and down the playa mid March, apartment blocks were being repainted and the whole place started to buzz again. Then the wind and rain came and they all shut up like clams and won't reopen until the sun decides to shine again.
Titos reopened in that brief warm weekend and their resident duo Clive and Maurice played their first Sunday afternoon slot of what will hopefully be a long summer. Clive and Maurice play acoustic guitars in perfect harmony and sing a great variety of songs from the past and always with smiles on their faces. A perfect way to enjoy a Sunday afternoon and Titos great food is available till 430 so why not enjoy a bite and then sit back and enjoy the music.
Last Monday afternoon Arriba Arriba opened the Maui bars summer season and the delectable Ellen and that talented tinkler on the ivories Jim performed classic pop tunes as always with a sense of humour. The audience was also privileged to hear Colin magnificently help out on the triangle.
That great local character Lawrence also obliged with some native Indian singing. Maui often put on Monday afternoon gigs and their burgers are great value too. Follow Arriba Arriba on facebook.
Anyone who has been privileged to hear Los Gringos play will surely agree that they are the best band to be playing the circuit. Honestly if you hear about a gig then move heaven and earth to get there. Rock covers from the 60s 70s and 80s are all played note perfect with great passion.
They have been performing since last summer with Danni on guitars and vocals, Denis on bass and Venancio on drums. All have been playing in various bands in the area but now with the three together as Los Gringos, I for one tip them for great things.
They play at El Paniajo in El Marchal again on Sunday 17th April at . Hopefully the weather will have improved and they will be able to play outside. Follow them on facebook to find out where their all their gigs are.
Music is food for the soul and I hope readers will get out and about this summer as we are lucky to have so many talented performers amongst us. Food is normally available wherever the venue so we can feed our bellies at the same time.