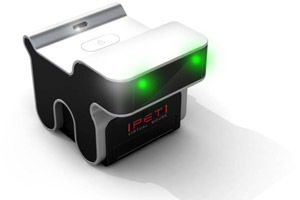 THE evoMouse has been touted by its creators, Celluon, as the "next evolution of the mouse. Two infrared sensors form the eyes of a small animal-shaped device which track the user's finger movements and allows all of the usual functions that the standard mouse does including click and select, double-click, right click, and drag and drop.
It is even possible to rotate and pinch to zoom as well as draw and there is a handwriting recognition feature that allows users to write with their finger or a pen.
An optional key-mat allows the evoMouse to be used as a portabled, full-sized QWERTY keyboard.
The device will work on nearly any flat surface, only needs a small amount of space and can be operated wirelessly via a Bluetooth connection or wires via USB.
Once charged it has around two hours of wireless running time, although it is possible to keep it hooked up at all times.
It is compatible with PCs and laptops that run Windows XP, Vista or 7 as well as Windows Mobile, BlackBerry and Symbian devices.
The evoMuse may "help reduce repetitive stress injuries including Carpal Tunnel Syndrome by allowing users to hold their hand in a natural position," claims Celluon.
However, there is no word on the release date or pricing.