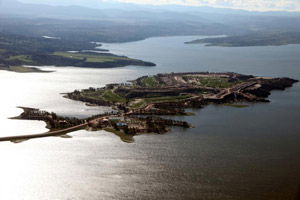 ENVIRONMENTALIST Paca Blanco won her fight to halt a tourist complex in a Caceres (western Spain) beauty spot but met so much hostility that she has decided to leave her home. The courts have now ruled that Marina Isla de Valdecañas, on an island in the Valdecañas reservoir, was built in a protected area.
Work must be halted on the luxury development's two hotels, 200 villas and golf course, while completed buildings are to be demolished.
Paca, local Ecologistas en Acción coordinator, has reportedly been subjected to five years of harassment owing to her determination to thwart the island resort and has decided to move away from her home in nearby El Gordo.
The regional government granted planning permission for the complex in 2007, classing it as a Project of Regional Interest (PIR) but the High Court has sided with the environmentalists, arguing that the development does not meet the requirements for a PIR.
When the court decision was announced last week, Paca immediately asked the central government's delegate for protection, fearing an escalation of the attacks she has suffered over the past five years.
These range from Molotov cocktails and eggs thrown at her house, setting fire to her post-box and causing around €2,000 in damage to her car, she claimed.
They would not get the better of her, 62-year-old Paca declared, but she did not want to endanger her family or the six-year-old grandson who lived with her and she has put her house up for sale.
Many of El Gordo's 300 villagers, who welcomed the development as a source of employment and a money maker for local shops and business, said they would be glad to see Paca go. And they were crossing their fingers in hopes that the developer's appeal against the ruling met with success, said a bar-owner.
Picture Credit: embalses.net