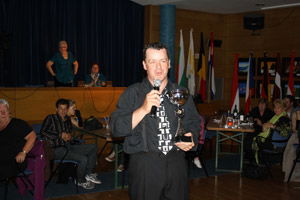 DESPITE an amazing evening of entertainment at the Not So Strictly, Finalists' Final on Sunday evening at the Sala Palma Nova, could it be possible that this could be the end of an era? It was described as "an incredible event, with a wonderful atmosphere," however due to location and other considerations, the future of Pickles Dance School remains uncertain.
The contestants Josh Brown, Cori McRoberts, Sarah Kenyon, Niki Ledwidge, Tina Brown, Peter Ledwidge and Penny Taylor had only a fortnight to prepare for the competition, and all managed to put in superb displays of their dancing skills. Everything from a Waltz to a Rumba, a Tango to a Quickstep was offered up for the chance to win the now legendary Pickles' Trophy. In the end Peter won with a fiery performance of the Tango after fighting off fierce competition from Penny's beautiful Waltz and Tina's dynamic Quickstep.
The evening was also successful in raising €300 for charity. The WDSA UK (Wheelchair Dance Sport Association) gave a great Latin demonstration. The charity bucket was passed around collecting cash while Ian Pickles & Rebecca Andrews whirled around the floor with a Viennese Waltz.
Becky and Ian from Pickles wish to extend their thanks to Kate Mentink for her emotional endorsement and constant support, and to their host for the evening Laura Penn from English Radio Mallorca for presenting in such a professional, and sleek manner.
If you can offer any support to the Pickles team then please contact them at www.ballroomdancemallorca.com