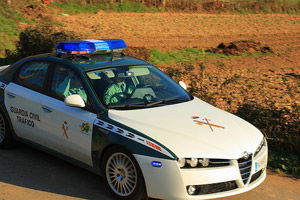 WITH the new 110kph speed limit on motorways – introduced to cut down on fuel – Guardia Civil will fine drivers travelling at 116kph. Traffic Guardia Civil had complained that they were unsure what the new limit for fines was, as they had only received verbal instructions in which they were told to maintain the limits they formerly enforced.
However, to avoid the possibility of discriminating drivers, they have been told now that any driver travelling at more than 116kph when caught by speed cameras, and 118kph in the case of mobile speed traps.
Spain's newly reduced speed limit did not produce the predicted rise in the number of speeding fines during its first week.
Between March 7 and 13 there was a 62 per cent drop and speed cameras trapped 2,082 drivers instead of the usual weekly average of 5,500, according to official figures.
The Partido Popular had earlier criticised the government's decision to introduce the lower speed limit, operational until June 30, as "a soviet plan" to generatemore speeding fines as well as lower petrol consumption.
That was only the first week, conceded insiders, who said that as drivers became accustomed to the new limit they would possibly revert to old habits.
But if drivers continued to drive within the limit this would produce the hoped-for drop in fuel consumption of around 3 per cent although petrol stations had already noticed a reduction in the first two months of the year.
Takings during that period fell by 10 per cent, according to the Confederation of Service Station Owners, who attributed this to lower consumption prompted by rising prices. The real effects of the lower speed limit had yet to be seen claimed the Retail Fuel Sellers' Group.
There was little change in the number of traffic accident deaths although on the day the new limit came into force there had been no loss of life, something that happened only four times in 2010.
Fewer road deaths would be a satisfying side-effect, government Alfredo Rubalcaba admitted earlier, although the true objective of the reduced limit was to cut back on fuel.
Picture Credit: Hadrián Fernández