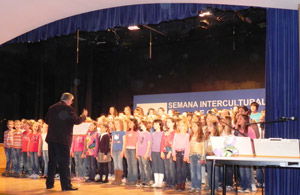 The last night of 'Intercultural Week' brought everybody together for a mega concert, plus the presentation of the winners of the poster competition. Presented by the EWN's very own Vicki McLeod the evening was a superbly organised chaos of choirs, cheers, applause and more.
Helen Cummins (ABC magazine) and her team of judges, aided by Councilor Kate Mentink, presented the winners of the poster competition with prizes galore whilst the choirs from Queens College,The Academy, Viva Schüle, Balearic International School, The Pauline Quirke Academy and Bellver International College had a packed audience on their feet begging for more.
A brilliant conclusion to the Intercultural Semana Cultural, brainchild of Kate, supported by of a veritable host of volunteers including, Dolina Reynolds, Gaby Lehenbauer, Conway Jones, Anita Baggaley, Milko Sawow the lovely Mel Brett and last but not least 'The Pupils'.
Roll on next year!