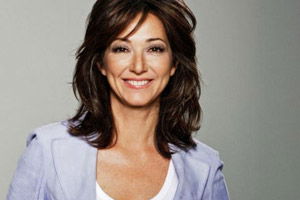 TV presenter Ana Rosa Quintana has been called to testify in court over the circumstances surrounding an interview with the wife of Santiago del Valle, sentenced to 22 years for the death of five-year-old Mari Luz Cortez in Huelva in 2008. She and nine other journalists have been charged by the Madrid court investigating the case.
Isabel Garcia, who will testify as the victim, said live on Telecinco's 'El Programa de Ana Rosa', "I can't go on. I'm really sorry for my husband's sake. But I can't cover up a crime".
Her admission on February 25 coincided with the final day of Santiago and Rosa del Valle's trial for the murder of Mari Luz.
She also said her husband killed Mari Luz accidentally. "It wasn't on purpose," she insisted.
She then went voluntarily to a police station where she was detained overnight before questioning by the Madrid judge who ordered she be sent to prison for failing to prevent a crime and lying under oath.
Mari Luz disappeared on January 13 2008 and her body was not found until March 7 2008. Del Valle was arrested on March 25 2008 and at the time should have been in prison for sexual abuse offences, including one against his own daughter, but was at large owing to a judicial oversight.
Garcia, who has learning difficulties, travelled to Madrid three days earlier at the invitation of Telecinco. Her lawyer, Mariano Francisco Garcia, says that journalists wouldn't leave her alone in the 10 days before the confession.
Amongst the people charged is the reporter who made the direct connection with the television study with Garcia and failed to stop filming her when she was crying after the connection.
Picture Credit: http://rodeadaporletras.blogspot.com