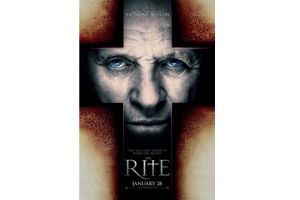 Inspired by true events, 'The Rite' follows sceptical Seminary student Michael Kovak (Colin O'Donoghue), who reluctantly attends exorcism school despite his own doubts about the controversial practice and even his own faith. The Vatican-affiliated university in Italy teaches priests how to distinguish between a genuine possession and mental illness.
Wearing his deep scepticism like armour, Michael challenges his superiors to look to psychiatry, rather than demons, in treating the possessed.
Only when he's sent to apprentice with the unorthodox Father Lucas (Anthony Hopkins), a legendary priest who has performed thousands of exorcisms and introduces him to the darker side of his faith, does Michael's armour begin to fall.
As he is drawn into a troubling case that seems to transcend even Father Lucas's skill, he begins to glimpse a phenomenon science can't explain or control… and an evil so violent and terrifying that it forces him to question everything he believes.
Inspired by author Matt Baglio's nonfiction book of the same name and directed by Mikael Hafstrom, The Rite is a psychological thriller that uncovers the devil's reach to even one of the holiest places on Earth.
Although the film is intended to be more than just a mainstream moviegoer's option for an afternoon out, it is a little dull in parts and Anthony Hopkins is, well, Anthony Hopkins, as always.
A lot of shouting is done, a lot of clichés are used and the film is predictable enough, but on the other hand, the general appearance of the whole production almost makes up for its downfalls.
Film review by Gabrielle Devon