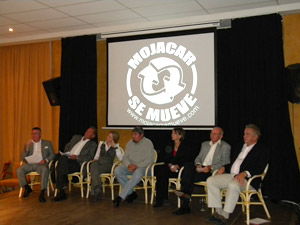 At The Puerto Marina Hotel last Friday Mojacar Positiva Se Mueve, one of the new parties in Mojacar that will be standing for election in May was officially unveiled. A packed house approaching 500 saw the presentation by this multi cultural party with a completely bi-lingual show explaining what they see as the current problems in the area and how they plan to tackle them.
Backed by local businesses of all nationalities this was certainly an interesting event although some of the answers to the burning questions seemed a little vague.
To be fair this was a party launch not a debate although I'm sure this will come later.
This multi cultural party completely reflects Mojacar's society and being run by business people they seem to have their finger on the pulse.
Their main candidate Jessica Simpson whose enthusiasm is quite intoxicating and having been in the area for over 20 years considers herself just as much a 'Mojaquero' as the next man. And rightly so.
By Richard Shanley