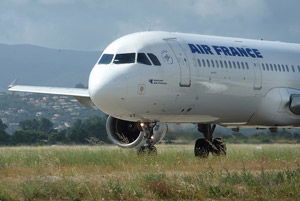 AIRLINE Air France has been charged with involuntary manslaughter for the death of 228 people on the Rio de Janeiro-Paris flight on June 1, 2009. The Paris judge investigating the event has also charged Airbus, the maker of the A330-200 plane. Neither company has assumed responsibility for the accident, and question the decision to accuse them in the case.
The black boxes have still not been found although a new search is due to start at the end of this month in a 10,000km2 area, lasting until July. The black boxes only send out a signal for one month after the accident. In this case, they may be some 5,000 metres under the ocean.
Only three per cent of the plane and 50 bodies have been recovered.
Flight AF447 left Rio de Janeiro bound for Paris Charles de Gaulle airport at 1900h (local time) on May 31 with 216 passengers and 12 crew members on board.
During the early hours of June 1, it crossed a 'blind' area of the Atlantic which has no radar coverage, where pilots have to call in their coordinates and flight status every so often.
Just three and a half hours after take-off, the pilot informed they were heading for a storm. This was the last call from flight AF447. More than two hours passed without any type of communication from the aircraft.
At 0410h, the first of the 24 automated messages was received at Charles de Gaulle airport. It indicated that the automatic pilot had been switched off and the plane was being controlled manually. The speed sensors sent contradictory information which suggested the plane was flying too fast.
Two minutes later, two other messages reported that systems which transmit data such as speed, height and direction, had blocked. This was followed by another message reporting that the electrical system had failed. The last message, received at 0414h made the controllers' blood run cold.
It reported that the plane was in a vertical position, plummeting towards the Atlantic Ocean at great speed.
Picture Credit: JeanbaptisteM