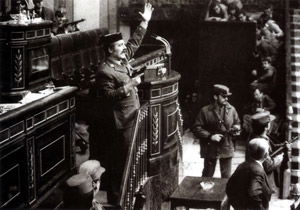 JOSE ANTONIO IGLESIAS, an ex-Guardia Civil and Lluis Maria de Puig Olive, a former member of the Madrid parliament, met inn Madrid last week for the first time in 30 years. As they shook hands relations were more cordial than they were on February 23, 1981 when Iglesias was amongst Guardia Civil troops who stormed the parliament chamber during a failed coup d'état.
In a newspaper article last month recounting events that day, De Puig recalled how a Guardia took a book of poetry from him in the 18 hours that he, his fellow MPs and cabinet ministers were held hostage.
Jose Antonio Iglesias read the article and contacted El Pais. Confessing that he still had a page from that book with notes made by De Puig and wanted to return it, he was put in touch with the politician.
Together both men pieced together the history of the confiscated book, whose blank endpaper De Puig Olive had written on.
Lieutenant Cesar Alvarez saw this and after announcing that writing was prohibited, sent two guardias over to him.
"They wanted to know what I was writing.. 'It's in Catalan, I'll translate if you want' I told them. They took the book and showed it to the lieutenant."
The book remained out of De Puig's reach until the hostages were released. As he left a guardia picked it up and ripped out the page with his notes before he took it.
When they met, Iglesias asked De Puig if he knew who took the sheet and on being told "no" admitted that it was him.
The notes contained only De Puig's account of events and worries about his family but Iglesias, who did not understand Catalan, took it as a precautionary measure.
"I'm not grateful to you for what happened that night," De Puig told his one-time captor when they finally met, "but I appreciate your saving that page and calling me. I'm really grateful about that."