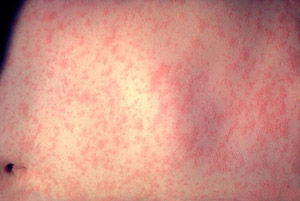 AN outbreak of measles has affected more than 229 people in Sevilla, according to the Andalucian Health Department. In 2009, only 24 cases were detected in the whole of Andalucia, but 89 people have suffered the illness since October in Granada. These 318 cases are three times more than were detected in the whole in Spain in 2009.
The health department has ruled out that this is a step backwards after all which has been done to eradicate the illness in the past decade, but it does show that some of the population is not vaccinated against measles, and it is in these areas where the health department has to act.
Ninety-five per cent of people have the triple vaccination (for measles, rubella, and mumps).
In Granada, the most surprising part of the outbreak was not the number of patients, but that many parents refused to vaccinate their children, leading the Junta de Andalucia to recur to a judge to force them to do so.