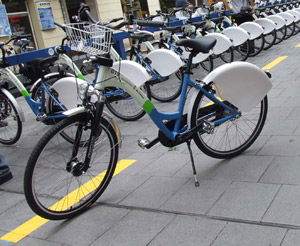 A NEW bicycle service will be available in Palma de Mallorca as of Monday March 28. It is aimed at residents, who must be older than age 16 and have the cities citizen card. Those who wish to use the bicycles can "go to the website www.bicipalma.es and click on 'How to apply' and pay the €5 registration fee for 2011, which is charged to the citizen card", explained Mobility Councillor Jose Hila.
Citizens can also sign up in person at the Bicipalma customer service office on Calle Sant Joan de la Salle 6.
This service is open to 5,000 people, but if this figure is exceeded, residents can join a waiting list which will also serve to determine if the service needs to be expanded.
During 2011, the service is still in a test phase, so the first 30 minutes of use will be free. If this time is exceeded, then "the user will be charged 50 cents for every extra 30 minutes of usage," said Hila.
Biciplama "may not be used for more than two hours, and if exceeded then penalties could apply; from not being able to use the public bicycle for a week or even being banned."
It is a "public bicycle system that the city offers for its residents to get around the city and is not meant for tourism or recreational use, but as a means of transport for short every day trips and as a complement to public transport systems in the city."
The service will be in operation 365 days a year.
Operating hours are Sunday to Thursday and holidays from 7am to 10pm and on Fridays and Saturdays from 7am to midnight; once the service is closed it is then only possible to return the bikes.
There are 28 stations spread out over 15 neighbourhoods: Foners, Pere Garau, Marques de Fontsanta, Arxiduc, Buenos Aires, Es Forti, Camp d'en Serralta, Santa Catalina, Jaume III, Borne, Plaza de los Patines, Cort, Sant Nicolau, Sindicat and Mercat.
In the first phase there are 336 bicycles which are blue, white and green, the same colours as the Palma Municipal Transport Company (EMT).
The system will be able to determine where each bike is and inform users where available bicycles are and where they can be dropped off and if any stations are full or empty.
By Nicole Hallett