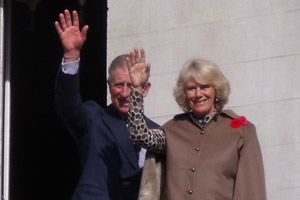 PRINCE Charles and Camilla Parker-Bowles will visit Spain on March 30 on their first official visit to the country since they married six years ago. The couple will visit Portugal, Spain and Morocco, from March 28 to April 6, although according to official sources, they will not visit Gibraltar.
Prince Charles visited Spain in 1987 with Lady Diana, and spent several days with the Spanish Royal Family at the Marivent Palace in Mallorca.
However, this is his first visit with Camilla, who claims to love Spain. They will stay at El Pardo Palace and will be received by Prince Felipe and Princess Letizia before a dinner at the Royal Palace.
The following day they will lunch with the King and Queen as well as the Prince and Princess of Asturias at the Zarzuela Palace. Later, Camilla will accompany Princess Letizia to the ONCE foundation for the blind to see the Guide Dog Programme, while Prince Charles and Prince Felipe will visit the Repsol Centre for biomass development in Mostoles.
That night, there will be a dinner at the Ritz Hotel and the following day Prince Charles and Camilla will visit Sevilla.
They will then stay at the property of the Duke of Wellington in Illora, Granada, before leaving for Morocco.