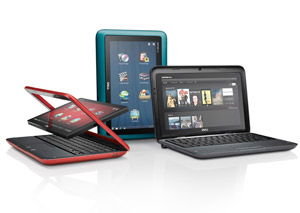 Dell has put its own spin on the convertible tablet with the Inspiron Duo. It is a cross between a netbook and a tablet. In netbook mode it functions as a normal laptop. The 10.1-inch touch screen has a detailed 1366 x 768 pixel resolution that is ideal for viewing multimedia on and has a spacious keyboard.
It has a dual-core Intel Atom processor and 2GB memory. When the screen panel is rotated horizontally and the lid shut, it converts into a tablet.
It makes use of Windows 7 with large icons for accessing multimedia, games and an eBook reader, although various reviews have pointed out that the capacitive screen can be slow to respond and the running is not as smooth as would be desired.
There is also no Ethernet port for wireless networking and no video out, so sharing content on the big screen in not possible and the battery life is said to be just 215 minutes.