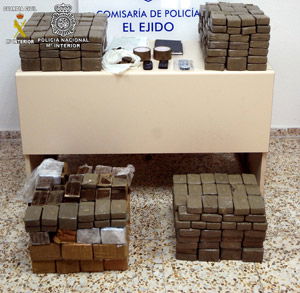 GUARDIA CIVIL, National and Local Police in El Ejido arrested two men, aged 37 and 25, for alleged drug trafficking and burglary. Several people called the police reporting strange noises coming from a house, as well as people and vehicles accessing the property.
When the officers arrived, two people attempted to escape, but they were caught nearby. The garage and main entrance doors had been forced open and there were signs that draws and wardrobes had been searched.
Several sacks were found, containing 130 kilos of hashish.
One of the detainees had a European arrest warrant against him and has been sent to prison.