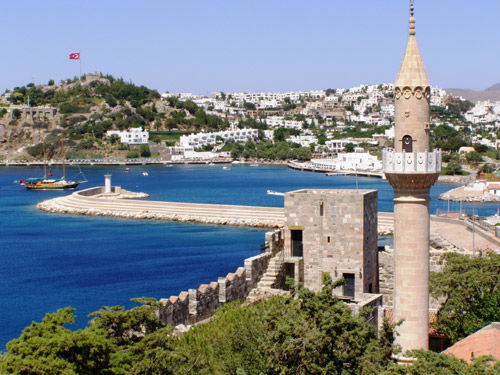 AFTER the setback of the proposed airports strike, Spain's tourist associations suffered a second blow. It was announced at Berlin's International Tourist Fair that Turkey, and not Spain, appears to have been the main beneficiary of the anticipated tourist diversion from the troubled North African region.
It was announced that Turkey's Mediterranean tourist hotels already have 90 per cent of their room allocations reserved by the international travel companies for this next summer season.
It had been hoped that the main tourist countries of Britain, Germany Holland and Belgium would see their holidaymakers come to Spain in place of the North Africa.
Instead Turkey, with its lower overall costs, and tour operator subsidized flights (to compensate for the extra distance). The average Turkish advance booking at present run at almost 100 per cent, compared to only 50 per cent on the Costa Blanca.
This discrepancy may well widen now that the Spanish airports authority AENA are holding strikes for 22 days between April and the end of August ie the tourist season.
Last year Turkey had 28.6 million foreign tourists, being an increase of 5.7 per cent on 2009. This compares to Spain's 52.6 million and its 0.95 per cent increase. But the trend is clearly towards a shift in tourist loyalties away from Spain and across the Mediterranean to Turkey.
It is not only the western tourist market that is turning east. With Turkey removing the need for visas from certain countries, it found Russian visitor numbers up an amazing 22 per cent on a year on year basis last year.
The visa "deterrent" is something that tourists association's here in Spain feel deters visitors and there has been an as yet unsuccessful campaign over the last twenty years by the tourist industry here to central government to remove these visa restrictions for what are becoming increasingly important tourist supplier countries from outside the EU.
Benidorm in particular has been marketing itself to the far east and Russia, and may find its growth campaign hindered by the comparitievly restrictive visa requirements here.
In the last fifteen years Turkey has added as many tourist hotel rooms as there are in Andalucia. It now has 1 million beds available in approximately 4,400 hotels. Over the same period the Costa Blanca increased its room space by only 65,000 places.
Turkey's growth has been enormous and the proposed strikes with AENA is a clear case of shooting oneself in the foot at a most difficult time, with cancellations already being experienced as a direct result.
There remain only forty days to the official start of high season at Easter, but the negative effects of these strikes have already been felt from these cancellations that are a direct result of the strike's prospect. The unions and AENA were due to resume negotiations this week in an effort to avert the disruptive protests.
Any settlement could not come a day to soon for Spain's embattled tourist industry, though with privatisation a near certainty it is hard to see a quick resolution, and the more the uncertainty drags on, the worse will be the off putting effects for those tourists making the simple choice between here, and the stable alternative of Turkey.