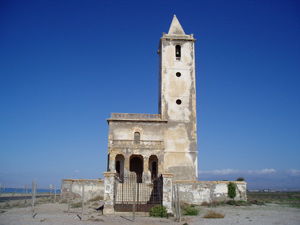 THE Guardia Civil are investigating if a satanic ritual was carried out at Las Salinas Church in Cabo de Gata. On Monday morning, a resident in the area found the door to the church open, and inside, he found painted satanic symbols, and latin phrases written on the floor and walls, apparently made on Sunday night.
Church sources told El Almeria that the building has been used in the past for rituals and ceremonies linked to satanic sects.
The Friends of Las Salinas Church Association, who just last week complained about the state of the church, which is open to anyone and constantly suffers plundering and vandalism, cannot believe what they have seen.
The figures of saints, candlesticks, pedestals, windows and even the font have been stolen since it was closed in 2004.
Pending a statement from the Bishop of Almeria, Adolfo Gonzalez Montes, who was awaiting permits to commence restoration work at the church, the Association denounced the events which they say are "surreal" and show a lack of respect for one of the area's most iconic buildings.
The restoration was estimated at €400,000 before this event.
There are more than 50 satanic cults active in Spain, according to a study carried out by Manuel Guerra, a priest and professor at the Faculty of Theology of Northern Spain.
In the study, Guerra suggests a growth of Satanism in Almeria, Murcia and Malaga Provinces, attributed to "the profound crisis of principles and religious and ethical values."
The resurgence of Satanism in Almeria Province came via a sect known as Hijos de Lucifer (Sons of Lucifer).
There have been similar reports of satanic rituals in other Almeria towns like Benahadux, Alhama and Carboneras. In some cases evidence of animal sacrifices were also found.
By Jennifer Leighfield