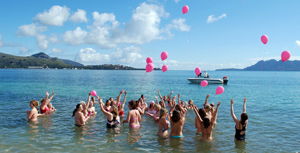 NICKIE BAYLIS and Nicki Liles decided to hold a Sponsored Dip, in which the "Dippers" could either go topless or wear a pink bra. After a week of horrible weather, the sun shone, and people assembled at the Bar Llenaire in Puerto Pollensa. Luckily the Local Police gave their usual support, and accompanied the participants and supporters from Bar Llenaire to the Beach Guard tower, which had been festooned with pink balloons and decorations.
Leading the procession was the Jo Ryan, who was the inspiration for this event when she was diagnosed with breast cancer
As the Dippers prepared for the dip, it was evident that many were carrying pink balloons, each with the name of a relative or friend, many of whom had suffered from breast cancer.
Suddenly the dash for the water was on, and over 30 women (plus one man!) took the dip. The women were aged from 15 to 75 and there were lots of laughs and enjoyment.
Then came a magic moment as the pink balloons were released towards the sun.
After the event there were drinks, cakes and bacon sandwiches for the participants. I managed to find the only man who had taken part. Lee, still in his pink bra, explained that he was a willing participant, but threats from his darts team were involved.
The event has raised in excess of €4,000 for breast cancer.
It certainly raised awareness of the illness. What a happy event. It was very "pink" . I can't remember such an event in Puerto Pollensa. We even had blue flashing lights and sirens in support.
Nickie and Nicki, the organizers, have been overwhelmed by the response from the local community, both Spanish and English-speaking, and already participants are asking what will happen next year!
Congratulations to everybody who took part in the event. You were amazing. This event really did take people outside their comfort zones to raise money and raise awareness. You managed to do it magnificently.
By Howard Mullen