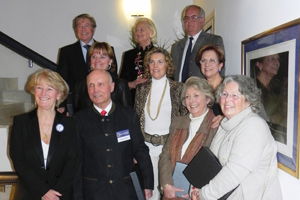 A BIG party was held at the Club de Mar in Palma to recognise and celebrate 20 years of European Citizenship here in the Balearic Islands. More than 130 members and friends packed into the restaurant 'Aurei' to support Europeos por España and Ciudadanos Europeos.
Several people were recognised for their contributions to the associations over the past two decades as commemorative plaques were presented to Rosemary Hammon, Gerdamarie Glebocki, Euro MP, Rosa Esteras, ex Mayor of Palma, Joan Fageda, President of Ciudadanos Europeos, Joaquim Wagner and President of Europeos por España, Richard Porter.
Joyce Addison was unable to attend to collect her plaque which will be presented at a later date. Assisting in the presentations were ex Euro MP, Francisa Benessar and the inimitable Olga Bestard.
Kate Mentink, founder of both Europeos por España and Ciudadanos Europeos was presented with a special anniversary trophy by her husband, David Hammond who praised her tireless work on behalf of the European community.
Kate's award was greeted by cheering and applause and is a well-deserved accolade for her constant efforts to support and enhance the lives of non-Spanish Europeans living in the Balearics. For more information go to www.epore.org.