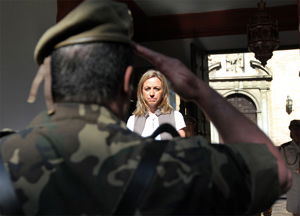 HAVING replaced the chief of the Centro de Inteligencia de las Fuerzas Armadas chief, Defence Minister Carme Chacon wanted a complete overhaul of the military intelligence service, she said. One benefit of the changes, Chacon told a radio interviewer, would be the opportunity to adjust current duplications and overlaps with the CNI (National Intelligence Service) and to focus efforts on operations in Afghanistan and Lebanon.
The reorganisation would also be aimed at maximising Spain's existing military resources and guaranteeing the highest possible level of professionalism, added the minister.
CIFAS is the body responsible supplying the ministry of Defence, through the Jefe de Estado Mayor de Defensa (Chief of Defence Staff), and the military authorities, with detailed military intelligence needed to alert the authorities to potentially critical situations.
Where and when necessary, it can also supply any necessary support during operations.
The present changes were triggered by the transfer of the current CIFAS chief, General Miguel Romero, to the Air Force, said Defence ministry sources, and in consequence this had prompted the Chief of Defence Staff to order a revision of CIFAS and its areas of influence.
The new CIFAS chief – a vice-admiral, intimated the same insiders – would be the third person to occupy the post in this comparative newcomer to Spain's intelligence departments, created in 2005.
The task, demanding in itself, will be still more challenging for the new chief by having to take over at a moment when the effects of Defence cuts are now beginning to hit home.
Photo Credit: Fermin RF