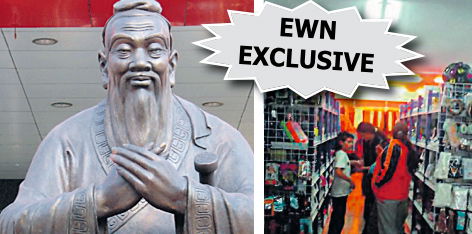 A rising number of Chinese-run stores now operate throughout Spain, with the immigrant group increasingly dominating the 'convenience' market. Jane Plunkett reports. Need a new alarm clock, batteries for the TV remote or perhaps school notebooks for the children?
The local Chinese store is bound to have them, and without breaking the bank. Over the last three or four decades, a steady influx of entrepreneurial Chinese migrants has started to have a noticeable impact across the country. So common in fact is their present-day ownership of convenience stores that Spaniards and expatriates frequently refer to the shops as 'chinos'.
Vast majority
Chinese immigrants started to trickle into Spain in the 1920s and 1930s, working as peddlers, selling articles like ties, stockings, cheap jewellery and soap, according to a study on the Chinese Community in Spain by authors Joaquin Beltran and Crescen Garcia.
However, unlike other countries in Europe, where a large Chinese presence dates back many decades, the vast majority only started arriving here from the 1970s because of Spain's slow economic development. Statistics for 1961 show there were just 161 Chinese nationals resident in Spain.
Fifty years later, there are more than 170,000, although the number including illegal immigrants is estimated at nearer 240,000. Although the number of Chinese in Spain is relatively small compared with other immigrant groups, it rose nearly 4 per cent in 2009, the only one to grow during the economic crisis.
Their economic presence has excelled, too, for while the Chinese make up less than 3 per cent of Spain's 4.7 million immigrants, they represent 16 per cent of foreign-born entrepreneurs. Forty-five-year-old Jiang owns and runs a 'chino' store in Marbella. In Spain for eight years – in broken Spanish – he says that he moved here because he heard there were good opportunities.
"I am here with my wife and three children. But I spent seven years in Madrid working as a cook seven days a week. I saved up enough to open this business. The language is difficult, but business is OK," Jiang says.
Long hours
Sarah Murphy, a 32-year- old British expatriate who worked for two years as a journalist in China, is not surprised by the success of Chinese businesses.
"I was amazed by their work ethic when I lived in China. Most of the people in my office rarely went out at the weekend. They stayed at home and saved their salary," she says.
"My banker boyfriend had to force one employee to take a day's holiday that he was due. The employee did not want a day off, and kept calling the office asking if he could come in and work!"
It is this entrepreneurial attitude – teamed with long working hours and access to cheaply produced goods – that is viewed in part as a threat to local business. According to the Wen Zhion National Chinese Association, between 5,000 and 6,000 Chinese nationals now manage more than 2,000 businesses in Malaga Province.
Some Spanish traders find it difficult to compete and, in some areas, tensions have been increasing. While Spain was once a world shoe manufacturer, with the city of Elche in Alicante its capital, cheap imports, mainly from Asia, have steadily led to a downturn in the local footwear industry.
In 2005, protests over cheap goods from China undercutting local workers resulted in the burning of a Chinese-owned shoe warehouse, with protestors claiming most of the imported shoes were untaxed and sold on the black market. Though these protests were five years ago, complaints about Chinese businesses dodging tax, paying bribes and working unethically continue to circulate in Spain.
Fierce Competition
IT'S almost impossible to go shopping nowadays and not see a Chinese-run business. Over the last 10 years, the Chinese have established convenience stores in towns and villages throughout Spain, thereby changing the local business landscape.
Customers seeking bargains welcome them; for a small number of Spanish businesses the competition is exciting; for many others the Chinese ability to source cheap goods, and their desire within a family network to work morning, noon and night, is too much to compete with.
Many local business owners have seen trade fall off as 'chino' stores have opened. Enrique Fernandez from Torremolinos says one Chinese businessman in his neighbourhood recently bought a former Supersol supermarket to turn it into a huge 'chino' store.
"It's no longer just small goods. He is selling all kinds of things. They are taking over," says Enrique.
Not affected
But while local business owners – especially those in the category of '100 peseta' shops – frequently feel the pressure, not everyone feels threatened. For Lola Llamas, owner of 'Merceria Diego' in Cordoba, the 'chino' store directly across the road has not affected business, though they sell similar products including bags, socks, shoes and underwear.
"When people want quality products which will last longer, and are more comfortable, they come here. If people want cheap things, at reduced quality, then they might go to the 'chino'," she says.
"I feel the competition is good. It forces me to stay on top of my game and find good quality at better prices. The general global recession has affected my business more than the Chinese."
While many local shopowners struggle to compete with the low 'chino' prices,wholesalers are also feeling the pinch.
"A few years ago the Guadalhorce industrial estate warehouse was full of local businesses, but today it's like Chinatown," says Malaga local Bobby Dayal.
"Nearly every outlet in the warehouse has been taken over by a Chinese business," he adds.
Dayal has been running an import business at the giant wholesale warehouse in Malaga – selling accessories – since 1997, and sources 80 per cent ofhis goods from China.
"For the past two years our business has gone down 75 per cent," he says.
"Big factory owners in China ship all the goods they can produce abroad as export items. Once the goods are in Spain or anywhere in Europe, it's impossible for others to compete as they are undervalued. Rumours about unethical business practices are commonplace at the Guadalhorce industrial estate warehouse.
Local businesses question how the Chinese can sell goods at such low prices. Many believe they pay bribes – speculated to be from €3,000 – €6,000 – at the ports to get containers in without inspection. While more recently Chinese businesses have been more closely watched in view of low prices, many local businesses feel the authorities turn a blind eye because of language difficulties.
"Personally, I feel the government has lost control and just looks elsewhere," said Dayal.
But, on the other side of the coin, after six years in Spain, Leu, aged 50 and originally from Shanghai, fears he might have to shut up shop.
"With the recession we are selling much less than previous years."