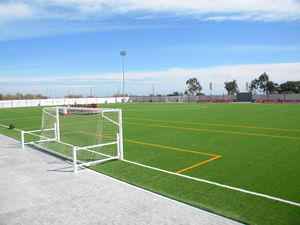 MOJACAR – A large crowd attended the inauguration of Mojacar Football Stadium. It is located next to the Peugeot Garage on Mojacar playa and was used for the first time last weekend. Various reports place the cost of the stadium between €1.2 million, and €1.8 million. Whatever the final price, the result is sensational.
The pitch is fitted with the latest state-of-the-art astroturf, so grass-like that as I was walking on it to take photographs I was convinced it was real.
It has a superb tiered stand which will seat 750 people and even a 'VIP / Visiting dignitaries' section.
There was a junior competition on Sunday to mark the opening with teams from all local villages taking part.
To see all 40 photos from this event visit www.facebook.com/SpectrumMojacar
By Richard Shanley