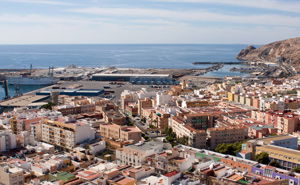 ALMERIA – APRIL 19 will be a date which will go down in history for Almeria, as for the first time, a cruise will leave from its port. Iberocruceros will leaves from Almeria on a six-day mini-cruise on the Grand Celebration which will visit Valencia, Marseille, Ajaccio, Ibiza and end in Valencia.
It is hoped that as the cruise is being launched for Easter and it is the first time that a ship starts out from Almeria, it will attract many residents in the province.
The ship can carry as many as 1,896 passengers.
Many companies have had doubts about using Almeria as a base port as they say railway and air connections to the city are far from ideal.
However, the President of Port Authorities in Almeria, Trinidad Cabeo, has said that this is an important step for Almeria to show it as an ideal location for cruise ship passengers in the Mediterranean.
During 2010, the number of passengers visiting Almeria rose by 48 per cent, and have been the tourism sector which has been least affected by the economic crisis.
By Jennifer Leighfield