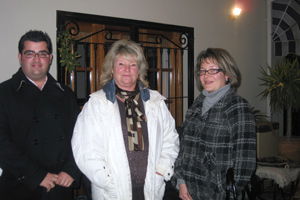 THE PP candidate for mayor of Albox, Inmaculada del Aguila, visited the homes of families living without electricity and water in the Aljambra area of Albox, many of which are threatened with demolition orders.
She spent more than three hours in the area, and spoke to families who live with just four hours of electricity and water per day, produced by a diesel generator which costs more than €6,000 per year. Many of these families had invested their life savings in a new home.
Inmaculada del Aguila said that she "wanted to know their real situation first hand, and offer them my promise to work together to find a solution to their problem".
The residents expressed their frustration at having been left waiting for years for an answer.
After meetings with Abusos Urbanisticos Almanzora-No (AUAN), she has promised to work with them to find provisional solutions to the larger problems, such as electricity and water, until a final solution can be reached with a legal reform of urban and territorial planning laws, which she promised will happen when the PP rules the Junta de Andalucia.
She also criticised the local socialist government, saying that the mayor should "stop paying visits to the Junta de Andalucia and making empty promises, and work more".
The PSOE promised that the problems would be solved within six months from them winning the elections, but nothing has been done in four years, and several meetings planned with the mayor, mainly to request more police for the area, have been cancelled.