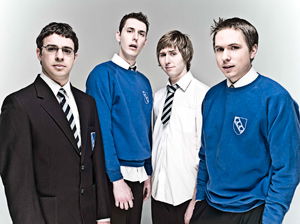 MALLORCA – THE filming of British teen sitcom 'The Inbetweeners' will cause traffic cuts in various locations in Magaluf, especially Calvia's center of nightlife, Punta Ballena. Filming began Monday and will continue through until Saturday March 19. In order to create the "least possible damage", plans have been coordinated between the film studio, the town hall, Calvia local police, business owners and residents, said External Relations and head of Palm Pictures locations, Traver Germain.
Although some of the extras will be flown in from the UK, it has been reported that they are also looking for local extras to appear in the film.
The channel E4 teen comedy series follows the adventures of four teenage friends in high school.