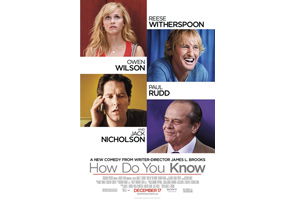 Reese Witherspoon, Owen Wilson, Paul Rudd and Jack Nicholson star in 'How Do You Know', the new comedy written and directed by James L Brooks, that takes a contemporary and romantic look at the question "How do you know"? Lisa is a woman whose athletic ability is the defining passion of her life, having been her focus since early childhood.
When she is cut from her softball team because she has hit the 'grand old' age of 30, everything she has ever known is suddenly taken from her. Not knowing what to do, she stumbles towards regular life. In this mode, she begins a fling with Matty, a major league baseball pitcher with a multimillion-dollar contract. He is a self-centered ladies man, a narcissist with a code of honour.
George Madison is a straight-arrow businessman whose complicated relationship with his father, Charles, takes a turn when he is accused of a financial crime, even though he's done nothing wrong.
Although he may be headed to jail, George's honesty, integrity, and unceasing optimism may be his only path to keeping his sanity.
Before Lisa's relationship with Matty takes root, she meets George for a first date on what may be the worst day of each of their lives: she has just been cut, and he has just been served. When everything else seems to be falling apart, they will discover what it means to have something wonderful happen.
The film good have certainly been better, and doesn't meet expectations, especially coming from Brooks.