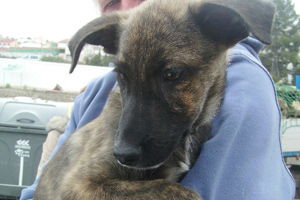 Zippy was found in a rambla near Albox and handed to Puppy Rescue on November 23rd 2010. He was extremely skinny especially his back end, which looked misshapen. When he was placed down it became apparent he could not walk but only hop, similar to a rabbit. He was taken to the vet that evening where he was examined and X-rayed.
The X-ray showed his left leg was badly broken, his right hip was broken and separated and he had an airgun pellet in his abdomen. The Vet thought, as there was no external injury, he had probably been severely kicked rather than hit by a car and had most likely been lying somewhere in the rambla for the past 10 days.
He was taken to the home of a fosterer, with instructions for mainly confinement, gentle exercise and definitely no jumping! He also needed anti-inflammatory drugs, painkillers and a good diet. For the next four weeks he slowly improved, eating well and wanting to play with other dogs.
This was the most difficult to deal with as his companions were large dogs and did not understand they needed to be gentle with him. Christmas week he was taken to the Vet for a further X-ray and check-up. His broken leg had united well and his hip, although misshapen was beginning to unite. However the muscle remains wasted on that side and that leg slightly shorter. This may improve with time but he will be difficult to home as this may lead to problems in the future.
The airgun pellet will not need to be removed at present but maybe reviewed later on.
If you would like to help Zippy please phone Diane on 664768958, or email. [email protected]
Puppy Rescue, CIF G04698818. based in the Almanzora Vally.