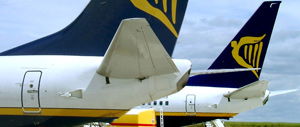 MOST airlines operating in Spain commit irregularities in the sale of flight tickets. This was the principal finding by Spanish consumer rights group Facua, which says 24 of the 35 (68.6 per cent) airlines advertise lower prices than what customers are charged. Facua has criticised the central and regional governments for lack of action to stop what they described as 'multi-million euro fraud' taking place within the airline industry.
The consumer group says most complaints they receive relate to Ryanair, Vueling and Iberia in that order.
A third of all complaints related to the airline industry submitted to Facua by consumers were about Ryanair, the group said in a statement.
Ryanair was followed by Vuelin with 24 per cent and Iberia (19 per cent).
The most common complaint received from consumers is the failure of airlines to comply with EU regulations regarding compensation for flight delays or cancellations.
EU regulations stipulate passengers are entitled to compensation between €125 and €600, as well as food, drink and shelter, depending on each case, Facua states.
Other complaints which top the Facua list are the additional charges levied on passengers when purchasing flights.
These include fees for: administration, payment by credit or debit card, online check-in, boarding passes at airports, baggage, among others.
Iberia told EWN "our prices our transparent from beginning to end."
Regarding complaints, Iberia said that although their "objective is to have as few as possible" it should be taken into account that "Iberia and Iberia Regional have the most traffic in our country" so one would expect more complaints proportionately.
Meanwhile, on February 11, in response to a Which? Article "Which? to launch super-complaint against 'rip-off' card surcharges," Ryanair's Stephen McNamara said: "Ryanair does not levy any credit or debit card payment 'surcharges'.
"Even our administration fee is avoidable by passengers who use our recommended MasterCard Prepaid," he said.
By John Jackson