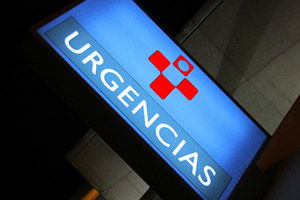 ONE in every three patients arriving at A & E departments in Spanish hospitals is there through problems caused by medication. Eighty per cent of these cases were caused by ineffective prescribed drugs, side-effects or interaction with other medication, found University of Granada researchers.
More than 130 doctors and pharmacists supplied information on 4,611 "Urgencias" admissions at nine flagship hospitals, including Sevilla's Virgen del Rocio and the Gregorio Marañon in Madrid.
Self-medication and incorrect dosage ramped up the risk of an A & E visit, as did not completing a course of prescribed medication – a failing admitted by 42 per cent of Spain's population.
Medication prescribed by a variety of doctors was another hazard and the risk of needing emergency treatment increased by 70 per cent for every prescription by different doctors.
The study cited Jorge Cortes, a 67-year-old Madrileño taken to Urgencias last month after he fainted. Doctors found he was taking two different types of drug for high blood pressure, one from his GP and another prescribed when he was on holiday in Alicante last year.
"I didn't realise both pills were for the same thing," Jorge admitted.
"People don't questions, they don't ask what their medication is for. Neither does anyone explain," said Dr Albert Jovell, president of the Spanish Patients' Forum.
"Negative medication-associated results" cause between 15,000 and 20,000 deaths each year, but they also cost Spain's health service millions of euros.
Each "Urgencias" visit costs the Administration €130 when the patient is not admitted to hospital and over the three months of the University of Granada study, problems caused by medication cost the nine participating hospitals more than €1 million.