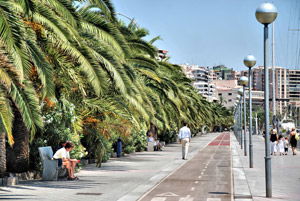 MANY of the large tour operators are to book more hotel rooms for the upcoming summer season. However, some hoteliers have said they are reluctant to commit all their rooms to only the larger operators, as smaller and medium sized operators have also expressed interest in sending holidaymakers, explained president of hotel chains Palmanova and Magaluf, Sebastia Darder.
"We must be careful not to overbook," he stressed.
Holiday sales have increased by 20 per cent from the German market and nine per cent from the British, which will result in more than 650,000 and 120,000 visitors to the island respectively.
The rise in reservations has increased due to the recent riots in Tunisia and Egypt. Tui has been offering Mallorca as an alternative destination. Thomas Cook has increased reservations to the Balearic Islands by 30 per cent.
Jet2.com has increased the number of places offered to Palma, Ibiza, Tenerife, Alicante, Murcia and Malaga by 68,000. This would come after a difficult winter season.
In January, "the figures recorded at Palma airport showed a worrying decline in visitors," according to the Mallorca Hotel Federation.
"Son Sant Joan lost 2.2 per cent of travelers and 4.7 per cent of flights, with a 8.4 per cent decrease in the German market and 5.7 per cent in the British market."
This contrasts with the strong performance in other Spanish destinations during January.
Madrid's Barajas airport increased by 3.3 per cent, Barcelona by 20 per cent, Gran Canaria by 5.9 per cent, Tenerife Sur by 4.4 per cent, Malaga by 8.1 per and Alicante by 3 per cent.
Picture Credit: Perry Wilkes www.tigersoulimages.com