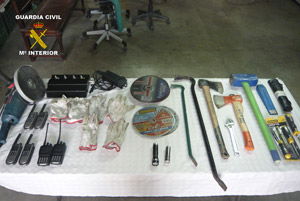 GUARDIA CIVIL have arrested four men, aged between 29 and 35, for illegal association and robbery. The officers learned that a group of men from Kosovo, whose sole activity was theft, were operating in the area, and an investigation was launched in August last year.
They targeted small warehouses, shops and houses in small, quiet areas, and are believed to be responsible for robberies in Vera, Alcontar, Pechina, Berja, Antas, El Ejido and Almeria, as well as others in Toledo, Jaen and Madrid.
The suspects were placed under surveillance and substantial evidence gathered against them.
One of the detainees has an extensive criminal record for similar crimes.