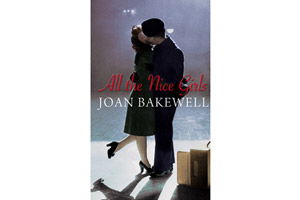 By Joan Bakewell – The time is 1942 and the war is going badly. Cynthia Maitland, headmistress of Ashworth Grammar School for Girls, decides that her school will join the Merchant Navy's Ship Adoption Scheme. As the school is near to Liverpool, the ship's home port, some of the crew are able to visit the school.
And so the relationship between two sixth form girls and two officers begins. But more seriously Miss Maitland and the married captain are attracted to each other. Having lost her first love in the First World War after refusing to consummate the relationship, Cynthia feels that she cannot repeat her mistake, but the consequences are life-changing for her.
The ship is torpedoed off the Azores and some of the crew is lost, but the main characters survive and so the story is brought to a captivating and surprising conclusion.
Despite being well over 70 this is Bakewell's first novel (so there's hope for those of us who are always going to write one!). The story is obviously well researched, (the bibliography is included), and carefully crafted but one cannot but feel that the story is an amalgamation of Winifred Holtby's "North Riding", the wonderful "Brief Encounter" and Muriel Spark's "The Prime of Miss Jean Brody".
That said, it is a warm and poignant story of wartime relationships and the atmosphere of the time is cleverly evoked. But would it have been published without the celebrity author? I wonder.
Book review by Meg McKenna
This book, together with around 2000 more can be borrowed from THE DENIA ENGLISH LENDING LIBRARY, Passeig del Saladar 91. Open Monday to Friday 10.00 – 1.00. For further information contact [email protected]