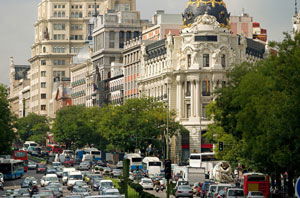 MADRID – AIR pollution sensors showed that by early February, nitrogen dioxide (NO2) contamination in Madrid had already exceeded the EU's permitted levels for the entire year. To add to the distress of Madrileños with asthma or respiratory complaints, the council has been accused of placing sensors in parks or areas where city traffic is light to record favourable readings.
Contamination is not new in Madrid, where exactly five years ago an anticyclone and high atmospheric pressure prevented air pollution from dispersing. Readings shot up to danger level and the city council's web page advised the population not to practise outdoor sports.
Alberto Ruiz-Gallardon, Madrid's mayor, pledged at the time to spend €502 million on cycle lanes and limiting city centre access to the "dirty" vehicles causing most of the city's pollution.
This potential vote-loser – applauded by environmentalists but viewed as a threat by motorists – was scheduled to begin in 2008, after the 2007 local elections.
Ruiz-Gallardon was re-elected but the scheme was mothballed until last November when he announced new plans to restrict traffic in the city centre but, once again, not until after this May's local and regional elections.
The city is now stifled by another anticyclone that has brought the same pollution problems, although the city's N02 levels were merely higher than the strict, self-imposed levels imposed after the 2006 crisis.
What was once normal was now regarded as serious enough for warning neon signs on the M25 ring road urging drivers to consider whether their journey was absolutely necessary, claimed Ruiz-Gallardon.
Ana Botella, Madrid's Environment councillor and wife of former president, Jose Maria Aznar, is criticised for not taking the pollution crisis seriously enough. Nevertheless, Botella hit home when she said that unemployment choked more people than pollution.
Banning contaminating cars from the city centre would affect worst-off citizens driving the older vehicles that produce more NO2 than new, environment-friendly models. Crisis-hit shopkeepers and business-owners are also reluctant to fewer cars and customers in the city centre.
Predictably, the central government's Environment minister, socialist Rosa Aguilar, is unhappy with the Partido Popular-run council's pollution policies and wants to create two workgroups to deal with the problem.
One will aim at making the nation's drivers more pollution-aware and another will study ways to tax cars so that those producing most contamination pay more, while the eco-friendly pay less.
Ruiz-Gallardon continues to insist that Madrid's air is "the best we have had in 10 years."
Meanwhile the one million Madrileños who drive each day in the city look skywards and hope for rain to clear the air and ensure that cars old and new, polluting or not, can continue to clog the streets unchecked. Until the next anticyclone.
By Annie Maples