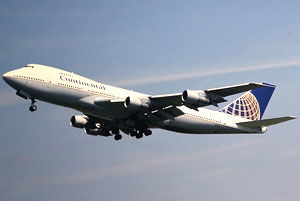 A disruptive passenger aboard a Continental flight from Amsterdam bound for Houston has been convicted of assault and interfering with the flight crew and sentenced, United States Attorney José Angel Moreno and Supervisory Air Marshal-in-Charge Joanne Oxford announced today.
Robert Wade Prince, 49, of Mobile, Alabama, pleaded guilty today to interference with the flight crew and attendants of Continental flight 59 on Feb. 13, 2010 and assault in the maritime and territorial jurisdiction of the United States before U.S. District Judge Melinda Harmon. Accepting the guilty pleas, Judge Harmon convicted and sentenced Prince to six months' incarceration on each of the two counts of conviction and further ordered Prince to pay a $10,000 fine. The sentences are to be served concurrently.
The charges are the result of an investigation conducted by the Federal Air Marshals Service and the FBI initiated on Feb. 13, 2010 upon the arrival of Continental flight 59 at Bush Intercontinental Airport from Amsterdam. That investigation produced evidence establishing that from the beginning of the flight and after consuming several alcoholic beverages, passenger Robert Wade Prince displayed loud and obnoxious behavior. A few hours into the flight, Prince grabbed the arm of a female flight attendant causing her pain. When the attendant asked him to let go, he refused, stating, "I just got back from the Middle East and I am not going to rape you."
A male flight attendant intervened, freeing the female attendant and notified one of the undercover air marshals on board the flight of Prince's disruptive behavior. As the flight progressed, Prince became more disruptive, prompting two young female passengers seated next to Prince to ask to be reseated due to the constant harassment and touching to which Prince subjected them. The air marshal agreed to exchange seats with the young woman seated next to Prince. When the air marshal attempted to sit next to Prince, he tried to push the air marshal out of the seat telling him, "You can't sit here. This seat is for my girlfriend."
The air marshal identified himself as a United States Air Marshal and asked Prince to calm down. Instead, Prince elbowed the air marshal twice in his chest. The air marshal handcuffed Prince and began to escort him to the back of the plane. Prince became even more disruptive yelling offensive racial slurs at the air marshal for the remainder of the flight.
The defendant has been permitted to remain on bond pending the issuance of an order to surrender to a Bureau of Prisons facility to be designated in the near future where he will serve his sentence.
Source: FBI
Picture Credit: Deanster1983