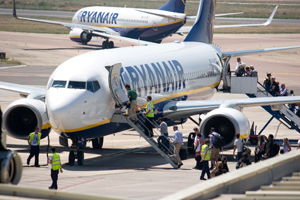 LOW cost airline Ryanair, will continue to charge passengers €40 for boarding passes at airports despite the Junta de Andalucia claiming it is illegal. Ryainair said passengers who do not print their boarding passes online, will have to pay the fee at the airport or they will not be able to get on the plane, the company said in a statement.
The company dismissed the claims saying the Junta "does not know what it is talking about" and assures there "is no law" that penalises charging for reprinting boarding passes.
Ryain states this charge only affects 1 per cent of its passengers.
The Consumer Department of the Junta de Andalucia maintains the charge is "abusive" as airlines must issue a ticket for free as this "service is included in the flight reservation."
Charging for boarding cards is more frequent amongst airlines who allow passengers to print their boarding cards online, but the Junta says this should be a choice, not an obligation.
In January, a judge in Barcelona ruled Ryanair was breaking international law by charging €40 for boarding passes.
Ryanair is appealing the decision.
Meanwhile, Ryanair has released an online 'packing guide' aimed at Belgian students "to allow these students avoid embarrassing themselves" following last week's incident in Lanzarote where 100 students were ordered off a plane over an excess carry-on luggage argument.
Ryanair's Stephen McNamara said: "Ryanair is today calling on Belgian universities to ensure no further embarrassing international episodes when their students travel abroad by providing them with an online tutorial in how to pack light."
Read the full story and watch the 'packing guide' video here >