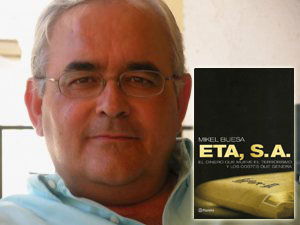 ETA killed 829 people between 1968 and 2010 and has cost Spain more than €11 billion, according to Mikel Buesa, author of the newly-published ETA, S.A. Likening ETA to a PLC, Buesa – Economics professor at Madrid's Complutense University – claims that as well as the cost in human lives, the separatist terror group brought huge financial losses to the Basque region.
During more than four decades that ETA has existed business owners decamped from the area, businesses closed and multi-million state investments like the Lemoniz nuclear power station were abandoned, said Buesa.
"Terrorism limited the growth of the gross domestic product. Over the last 30 years the Basque region lost an annual 0.8 per cent of potential growth," wrote the former president of the Ermua Forum victims' support group.
ETA undermined the region with a reduction in population, employment and influence over Spain's economy while enriching itself with donations from sympathetic political groups and associations as well as its "revolutionary tax" on businessmen and the wealthy.
The terrorists fed on the economy of the very state it wanted to bring down, Buesa argued. Not only did the group obtain funds by extortion but also through state funding to political parties and associations, or setting up legitimate businesses.
Between 1978 and 2008, the terrorists obtained €115 million through extortion and another €35 million from political parties.
Nevertheless, Bueso explained, ETA's income dropped by a third after 2002 and donations were hit after the ban on Batasuna, regarded as the group's political arm.
Coinciding with ETA's ceasefire declaration declared last September and confirmed last month, there have been no more letters demanding the "revolutionary tax."
"If all financial sources could be turned off, this would mean the financial collapse of ETA," Buesa predicted.