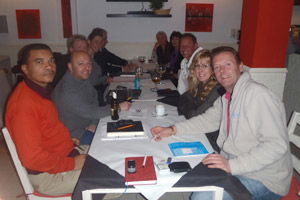 THE second meeting of 2011 for Mojacar Business Association (ACEM) was held at Arriba Bar on Mojacar Playa. There was a far larger turnout than the first meeting which made for a much rowdier yet constructive meeting. All sorts of nationalities from all sorts of businesses in Mojacar all working for the common good.
ACEM is part of a larger association ACELA which encompasses 14 villages in the Levante area of Almeria giving us a much more powerful voice at both regional and national level.
All of the villages have now completed inventories which include population, unemployment, local attractions, fiestas, visitor numbers plus important contact information.
Pat Weston has arranged a meeting to present the inventory to the hierarchy at Thompson and other travel companies to present Mojacar's case for them bringing their tourists back. To even get a meeting must be seen as a step forward.
A Mediaeval Market will be coming to Mojacar during the first week of July.
Arranged by Karin and ACELA all 14 villages will have a themed market at some point this year.
Garrucha will have a Maritime Market over the Easter period and Cuevas a Mediaeval one in mid March.
Mojacar's will be held along the paseo and around the car park opposite Cabana Argentinian steak house and there will be entertainment as well as themed stalls with everyone in mediaeval dress.
If the market on the eve of Three Kings in Los Gallardos is anything to go by, then this will be a roaring success and should guarantee an influx of extra visitors.
Any Mojacar business owner that can comply with the theme (i.e.. clothing, arts & crafts, food etc) can have a stall free of charge.
(I did ask but Europa Digital cannot have one to sell digiboxes; it's just not mediaeval enough. Shame, it would have been nice to see my wife Jessica dressed up as a serving wench.)
There will be a lot of food stalls which will tie in nicely with this years 'Mojacar Tapas Trail' which is running for the whole month of July rather than the 10 days it ran last year.
ACEM have listened to the public's complaints that 10 days was just not long enough to get round all the bars.
Bars or restaurants that would like to be included in the Tapas Trail should contact Fran Andreu via email at [email protected] . This should be done sooner rather than later as the passports have to be printed that the public get stamped as they visit the bars and vote for their favourite tapa.
The ACEM annual dinner dance is now confirmed at The Puntazo Hotel on March 26 where the inaugural 'Walters' will be awarded to people who have made a difference to Mojacar in promoting the area, running a long standing successful business and helping the community.
You must be a member of the association to make suggestions for the short-list.
The cost of membership has now been reduced to only €6 per month, a very small price to pay for the support and help you receive from ACEM.
To Join call Karin on 950 478 935. There really is no excuse for your company not to be involved.
Tables of 10 are available for the dinner dance on a strictly first come first served basis. Listen to Spectrum 92.6FM for further details.
The Walt Disney bronze statue now has four sponsors and is ready to be cast. We are just waiting for confirmation from The Town hall of where it will be situated in Mojacar. The committee's personal preference is for the square in the Pueblo but we shall wait and see.
If you want your say in what happens in Mojacar then join the most powerful business association and make a difference.
As an aside we were very lucky that Arriba could fit us in. They were packed to the gunnel's with diners. You would struggle to find a restaurant as busy on a Tuesday night in July, never mind a dark one in February. Pat & Mick are doing something right (advertising with Spectrum FM for one) and congratulations to them.
ACEM are looking for a part time secretary. Applicants must be multi lingual and computer literate with social networking skills. If you think you fit the bill please call Karin Schroter on 950 478 935. As the association grows and grows Karin needs help with the paperwork.
By Richard Shanley