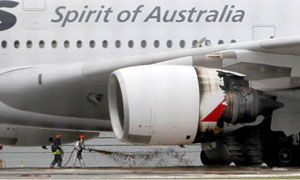 The pilot of the Qantas Airbus A380 which suffered an engine explosion in mid-air has described the plane as 'indestructible'. In his first TV interview since the incident in November of last year, Captain Richard de Crespigny said that the aircraft handled 'brilliantly' despite suffering extensive damage by flying debris from the engine.
Many of the planes systems and a further two engines were affected during the emergency.
Speaking on Australian TV he said: "Electrically, the left-hand side of the aircraft was dead. We lost 50% of the hydraulic systems. The brakes underneath the wings were reduced to 30% braking efficiency.
"Only three out of the 11 fuel tanks functioned. No jettison system was available. We had multiple holes in the wing which disrupted the airflow over the wing."
Onboard this particular flight in addition to the regular two Captain flight crew, there were another two Qantas Captain's who were onboard performing routine checks.
With a combined experience of 140 years of flying, the four captains spent nearly two hours assessing the damage, coming to the conclusion that they were going to have to treat the massive jet like a glider.
Capt de Crespigny added: "You prepare for the worst and you hope for the best. But the preparation in this case was putting us within gliding range of Singapore and that's something I haven't done since I was in the Air Force."
He landed the plane successfully saving the lives of the 469 passengers and crew onboard and paid tribute to the design of the Airbus.
"The wing was cluster-bombed. The aircraft had phenomenal damage in all systems. And it didn't just recover, it performed brilliantly. It is indestructible."
Engine maker Rolls Royce has identified the fault which caused the explosion and Qantas has resumed flying their fleet of A380s.
Top Picture Credit: http://theapplecorner.blogspot.com