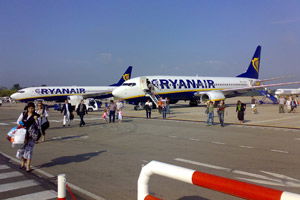 Budget airline Ryanair has decided to make a tutorial in packing light for their flights as a result of the Belgian students mutiny in Lanzarote last weekend. The airline called upon Belgian universities to add it to their curriculum following the unacceptable and unsafe behaviour which saw over 100 people removed from a Ryanair flight bound for Charleroi.
The online tutorial has been posted to YouTube to allow, according to Ryanair, these students to avoid embarrassing themselves, and Belgium, in the future with their refusals to follow airline policies and procedures.
The YouTube tutorial, which you can watch below, explains how to pack enough clothes for a two week period into one 10kg carry-on bag.
Ryanair's Stephen McNamara said:
"Ryanair is today calling on Belgian universities to ensure no further embarrassing international episodes when their students travel abroad by providing them with an online tutorial in how to pack light. This tutorial will allow these students to comply with the airline policies they accept when booking a flight.
While this tutorial will avoid any unpleasant situations for students, airlines and fellow passengers, these universities should also address the media reports that their students damaged hotel accommodation and were a general menace to other holiday makers, by developing further tutorials such as 'how to respect hotel rules'.
Thankfully the unacceptable actions by this small group of students are not indicative of the behaviour of the many millions of university students from Belgium and elsewhere that travel with Ryanair every year."
Photo Credit: si
{youtube}klNLqDpdYLI{/youtube}