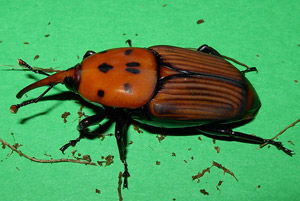 THE 'Salvemos Mojacar' Association has expressed its concern over the proliferation of the Red Palm Weevil in the town, which they consider a threat to health as well as to the environment. When the problem first arose, the Junta de Andalucia set up a hotline for people to call if they detected an infection. A team would come to cut down the infected palm tree and take it to be incinerated.
However, after being inundated with calls, the Junta apparently decided that each town hall should deal with the problems encountered within its boundaries.
In Vera, for example, the town hall treats both public and private palm trees and removes infected trees.
However, 'Mojacar se Mueve' complains that in Mojacar, the town hall has done nothing to avoid the plague from spreading.
The Red Palm Weevil (Rhynchophorus ferrugineus), between two and five centimeters long, has a short life-span, of about seven to 10 weeks, but leaves it larvae in the trunk of the palm tree, where it eats away for about one month, creating holes of up to one metre long and eventually kills the tree. When the larvae evolve into fully-grown weevils, they go to another tree and the cycle begins again, usually infesting palms younger than twelve years. The adult female lays approximately two hundred eggs on new growth in the crown of the palm, at the base of young leaves.
The weevil was first detected in Spain around 1994, when it attacked palms of the 'Phoenix Canariensis' species in Granada province. It is believed to have arrived in the country in palms from Egypt. Between 1996 and 2009, more than 49,800 palm trees have had to be destroyed due to infestations of red palm weevils.
Picture Credit: Luigi Barraco