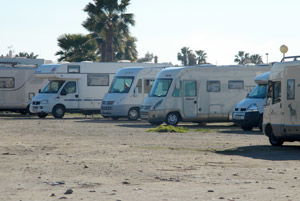 Let me be upfront here from the start. I have nothing against mobile homes in general and each time I visit Tel Air on Antas trading estate who have a vast selection on offer; I keep thinking about purchasing one to explore Spain and go to Grand Prix's etc. We are even considering hiring a Winnebago in the US this summer as a holiday option.
I suppose I am hooked by the romantic notion of the open road with everything you need in one vehicle, stopping when you want, eating and sleeping when you want. And the older I get, the more appealing it sounds. Caravans or mobile chicanes as I call them, on the other hand are a different matter.
Hell would freeze over before I wanted one of those. I don't know why this is, maybe Top Gear has a lot to answer to. They just look like aggravation to me and that is the last thing I need and I'm certainly not going to buy it.
What does get my goat however is the fact that some of these camper van / caravan owners think it is perfectly OK to park up anywhere they want and set up camp. There are sites a plenty for these motor homes all over the place with the amenities that you need, water, electric, toilets and showers to name the most crucial.
OK, so these cost x amount per night but surely that is part of your holiday budget. Or maybe after buying the vehicle (they seem very expensive) some people do not have the money or are too tight to pay for sites. As far as I am aware it is illegal to park overnight on the beach anywhere and the police are forever moving vans on from Palomares as well as on the side roads by my house. I know this to be the same in Mojacar as well but what about Vera?
What I saw on Vera Playa last weekend beggared belief. I counted 40 vans parked up in a modern day wagon train by the Vera Mar developments down past the Reina Hotel. If I owned a property there I wouldn't want to look out on this modern day gypo camp every morning. Even worse if you were trying to sell your property.
There are no facilities there so what are they doing with their rubbish and more importantly bodily waste. Those chemical toilets need emptying somewhere. I think it is disgusting that they are allowed to park up there on a piece of wasteland by the sea. I am even more surprised that the police have not moved them on. Looking around the site a lot of the vans were German registered but I saw registration numbers from all over Europe.
It seems that lack of council or police intervention is making this a thriving option for campers. I think the local councils are missing a trick here. They all have patches of spare land where they could set up toilet facilities, a shower block etc and even if they only charged €5 per night with 10,000 vans a week coming through in the summer. You do the maths. It tidies the area up, employs people and earns big money.
There is another side to this argument. Latest figures show that at any one time there are over half a million camper vans inside the Spanish borders. We are getting literally tens of thousands of camper vans through our area each year and this is a new form of tourism.
They are spending in bars, shops, restaurants and petrol stations to fill their motorised hotels so this is a plus for everyone. If you think about it they should be spending more than other holidaymakers as it is not costing them anything per night. So should we be prepared to put up with their illegal camping to get more money in the coffers?
My personal view is that no we shouldn't. No one wants to promote the area more than me but people extracting the urine and fouling up our beaches is not the way forward. It just cheapens the area. We want quality tourism in a quality area.
So will all you camper vans, wherever you are parked illegally please move to where you are supposed to be. Thank You.
By Richard Shanley