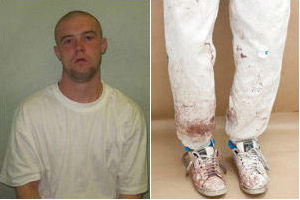 RYAN David Lee Backhouse, aged 19, was found guilty of the murder of a woman in Plumstead on 7 August 2010. Backhouse sentenced to life imprisonment to serve a minimum of 15 years following a trial at Woolwich Crown Court. On the night 24-year-old Toni Rudman was murdered, Backhouse was in a bookmakers in Eynsham Drive, SE2 playing on a fruit machine.
At the end of the game on the machine, at approximately 18.35 hrs, angry that he had lost, Backhouse was seen punching the machine in a rage. He had left his girlfriend's house where they had argued, immediately before going to the bookmakers.
Backhouse met Toni by chance outside a local convenience store where he had bought some alcohol. He claims she asked him for some money and instead he offered to share his drink with her. They then walked together towards Plumstead through the industrial estate. He claimed that Toni assaulted him but there is no evidence to support this claim.
Just over one hour later at 19.45 hrs a security guard working at a premises' on White Hart Avenue noticed two people walking towards North Road, they were Toni and Backhouse.
The pair walked along White Hart Avenue and on to North Road, where Backhouse then launched his unprovoked attack on Toni.
Backhouse attacked Toni, kicking and punching her, before dragging her backwards towards the concrete barrier dividing North Road and White Hart Avenue.
It was here that another security guard working in the area witnessed Backhouse walking around as if he was kicking something and he appeared to be speaking to someone in an agitated tone. At 20.10 hrs concerned by what he had seen, the security guard called the police.
After the attack, Backhouse fled the scene in his bloodied clothes walking quickly through nearby wasteland and occasionally breaking into a jog.
Officers arrived at the scene within a few minutes and found Toni, lying on the ground suffering severe head injuries and struggling to breathe. Officers began first aid until the London Ambulance Service arrived.
Detective Chief Inspector Nick Scola, of the Homicide and Serious Crime Command (HSCC), said: "This was a vicious and unprovoked attack by Backhouse on someone who was a complete stranger to him. Backhouse ruthlessly attacked Toni Rudman simply because he was angry following an argument with his girlfriend."
While Toni was being treated officers began to search the area for her attacker. Not long after the attack, at 20.35 hrs officers noticed a man on Finchale Road, a road nearby to the scene, with blood-stained jogging bottoms, trainers and hands. Identifying him as Toni's attacker officers arrested Backhouse for grievous bodily harm.
On the way to Plumstead Police Station officers asked Backhouse who the girl was he had just attacked and what he had done in order to assist the medical team trying to save her life. Backhouse replied "I don't know, I've never seen her before. My girlfriend hurt me, so I've hurt someone."
Sadly, Toni died at the scene at 21.02 hrs and Backhouse was further arrested for murder.
Detective Chief Inspector Nick Scola, continued: "Toni Rudman was a vulnerable young woman who was unfortunately in the wrong place at the wrong time. I am pleased that the jury have found Backhouse guilty of murder today and hope that it can bring some small comfort to her family."
The investigating officer Detective Inspector John McQuade of the HSCC said: "We are naturally pleased with the verdict and would like to thank and praise the Rudman family for their dignity during the difficult trial.
"We hope the minimum sentence of 15 years will give them some comfort and remove a dangerous and violent man from the community. Whilst acknowledging the extreme violence used by Backhouse, this type of offence remains, thankfully, very rare."
Source: Metrolpolitan Police Service press release