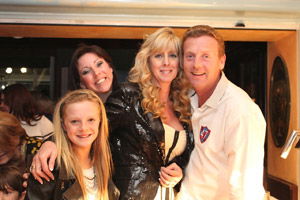 The Irish Rover on Mojacar Playa was the setting for the party of the year so far last Saturday evening. Spectrum FM's very own David 'The Soulman' Hay celebrated his 50th birthday in some style performing his infamous Elvis Presley set to a packed house. It just goes to show that are still people in Mojacar, it just takes something special to get them out.
Cheryl Davis proprietor of the Irish Rover was astounded by the turnout. 'We would be over the moon to get a crowd like this in August' she said, 'never mind a cold dark night in February.'
David had friends and family jet in from all corners of the globe to celebrate his birthday and they were not disappointed. The 250 strong audience were treated to an imaginative set by David before tucking into the Irish Rover's legendary buffet which includes chilli, paella and curry as well as a vast selection of cold offerings.
David got everyone into the party spirit and then DJ Ian took over to make sure the rest of the evening went with a bang. I would like to wish David a very happy birthday and also thank Phil, Cheryl and all the staff at The Irish Rover for putting on such a memorable event with such aplomb.
by Richard Shanley
Picture Credit: Blu Water Web Design