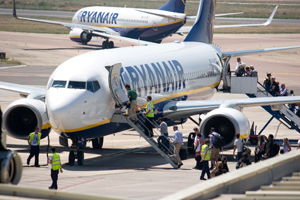 LESS than a month after a judge in Barcelona ruled Ryanair was breaking international law by charging €40 for boarding passes, the Junta de Andalucia has announced charging for passes is illegal. The Consumer Department of the Junta de Andalucia has announced that airline companies will not be able to charge passengers to print their boarding cards at the airport.
The Junta says boarding cards are part of the service offered when booking a flight and not something additional.
Some airlines charge passengers as much as €40 – such as Ryanair – but the Junta says current air navigation laws oblige them to give their passengers a boarding card, which gives them the right to travel, for free.
Charging for boarding cards is more frequent amongst airlines who allow passengers to print their boarding cards online, but the Junta says this should be a choice, not an obligation.
Users should know, they say, that airlines cannot deny them access to the plane if they have not printed the boarding card at home and if the company refuses to provide them with one for free.
Until February 28, the Consumer Department will be carrying out inspections of 54 airlines which operate in Andalucia, checking their websites, check-in desks and information counters. More than 30 are low-cost airlines.
A similar campaign was carried out in 2009, and 74 per cent were found to be flouting the laws.
At the time of the Barcelona ruling in January a Ryanair spokesman reportedly said: "It is remarkable that a Spanish judge could possibly suggest that this agreement between Ryanair and its passengers was breaking international law.